Project Healing Waters FT3 Event
The Denver Chapter of Project Healing Waters will hold its main fundraising event April 14th, 2013, with a showing of the Fly Fishing Film Tour at The Wildlife Experience in Parker, Co. Tickets are available at local fly shops.
Read more in the press release below.
Project Healing Waters, Fly Fishing Film Tour Event
The Wildlife Experience, 10035 Peoria St. – Just East of I-35 on Lincoln Ave. Saturday April 14th at 7:00 pm. Doors open at 6 pm. Discount tickets available at the following fly shops: Hook Fly Fishing, Colorado Skies, Anglers All, Trouts, Charlie's Fly Box.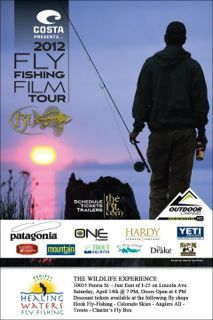 The theatre is a 300 seat iWerks (Apple's version of IMAX), making this the finest screen and experience that the F3T will be shown on this year.
VIP tickets are available for 100.00 which will feature a mixer and early access to auction items as well as preferred seating.
Show up early and get some help on your casting by FFF instructors as well as try your skills from a Boulder Boat Works drifty.
Contact:
David Brittain
Project Healing Waters – Denver
Special Events – Trip Coordinator
---