Buccaneers and Bones
Buccaneers and Bones has wrapped up filming in the Bahamas and Everglades and is set to kick off its third season. Hosted by Tom Brokaw and featuring the original cast of Michael Keaton, Lefty Kreh, Yvon Chouinard, Bill Klyn, and Liam Neeson, it will begin with new episodes January 1st on the Outdoor Channel.  Via The Bonefish and Tarpon Trust.
Read more in the press release below. 
Buccaneers and Bones
It's a Wrap: Filming Completed in The Bahamas for the 2012 season of Buccaneers and Bones.
Thanks to Orion Multimedia, and sponsors Patagonia, Hell's Bay Boatworks, and Orvis, we can all look forward to a 2012 season of Buccaneers and Bones.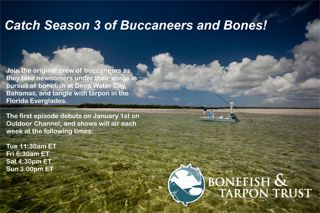 Earlier this summer, the Buccaneers gathered again to swap fishing stories and catch bonefish, this time at Deep Water Cay in The Bahamas. After a week of filming, the Orion Multimedia crew once again had hundreds of hours of footage, the Buccaneers had all caught plenty of fish, the weather had cooperated, and many wondered if S
eason Three might be the best one yet.
The cast was back to the original swashbucklers: Tom Brokaw, Michael Keaton, Lefty Kreh, Yvon Chouinard, and Bill Klyn. All but Tom McGuane were present and accounted for. Actor Liam Neeson also joined the cast for this year's Bahamas adventure.
Courtesty of tarbone.org
Bonefish & Tarpon Trust
JOIN BTT at https://www.tarbone.org/join-btt.html
Follow BTT on twitter @Tarbone
Our name pretty much underscores the goals we're aiming to accomplish — ensuring healthy populations of bonefish, tarpon, and permit for the future. After eight years of existence, BTT is a leader in sponsoring and funding the research needed to accomplish our goals. Most of BTT's work is done by volunteer efforts, with only a very small portion of funds used to fund administrative functions. The vast majority of our budget goes directly to supporting research and education.
BTT is a 501.C.3, not-for-profit organization based in South Florida, but with a worldwide presence. We are supporting or collaborating on research projects throughout the Caribbean and Pacific. Our goal is to protect and enhance both species by gaining a better understanding of their biology and ecology. With this understanding will come better management and conservation. But acquiring this information requires costly research. It is BTT's belief that by bringing together recreational anglers, guides, lodges, the marine industry, and other business interests, we can raise the funds and other support needed to conduct this essential research.
To underscore the importance of BTT's mission, you need only to read the list of Founding members, all respected members of the worlds of fishing and international business: Lefty Kreh, Stu Apte, Billy Pate, ChicoFernandez, Mark Sosin, Larry Dahlberg, Curt Gowdy, Doug Hannon, Tom Davidson, Paul Tudor Jones, Johnny Morris, Norman Schwarzkopf, Mina Hemingway, Joan Wulff, Christie Whitman (EPA Administrator), and so many more.
BTT's ability to bring together fishing experts, media personalities, business leaders, and marine scientists gives us the respect that is needed to lead the international effort toward research, conservation, and enhancement of bonefish and tarpon.
Courtesy of tarbone.org
---