System 4 Reels From Scientific Anglers
New from Scientific Anglers is the System 4 reel series. Crafted in Montrose, Colorado, these reels are designed with a large arbor and maintenance-free drag system, and can be used for salt as well as freshwater fishing.  Coming in three different sizes for 3- to 8-weight lines, the System 4 reels are currently available.
Read the full press release in the extended entry.
Sponsored Link: Buy Fly Fishing Reels
SCIENTIFIC ANGLERS SYSTEM 4 FLY REEL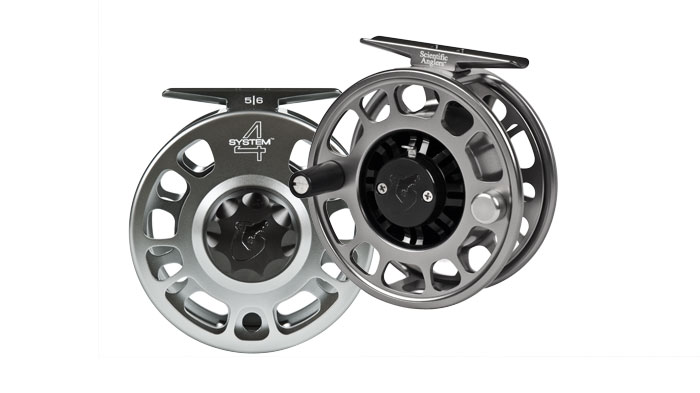 Scientific Anglers is pleased to announce the release of the NEW System 4 reel series. Adding to the long heritage of System reels, the System 4 is the first USA made reel for Scientific Anglers. It is CNC machined from 6061-T6 aluminum at our facility in Montrose, Colorado, and features a large arbor design for quick line pick up and updated cosmetics versus past System reels.
The System 4 comes in 3 different sizes – rated for 3-8 weight lines, features a Derlin 500AF maintenance-free drag system, and is also saltwater compatible.
Frame & Spool:
6061-T6 propietary aluminum alloy
Drag:
Derlin 500 AF with impregnated Teflon – space-age polymer that is durable, heat resistant, self-lubricating and maintenance free
Derlin 500AF to anodized aluminum interface – push frame friction disc drag system with redundancy radial pawl engagement and seamless transition between line-in and drag engagement (no startup friction)
Manufacturing Specifications:
Fully machined, 1 piece frame, 1 piece spool with a Derlin pressed hub – manufactured on automated CNC machining centers
Spool Rotation, Connection and Conversion:
Derlin hub rotating on a stainless steel spindle (Sizes 1-3), oil impregnated bronze bushing rotating on a stainless steel spindle (Sizes 4-7), quick release locking spool, easy left-hand to right-hand retrieve conversion.
| | | | | |
| --- | --- | --- | --- | --- |
| SIZE | WIDTH | DIAMETER | WEIGHT | CAPACITY |
| 4-Mar | 1.0" | 3.125" | 5.22 oz | WF3+75 |
| 6-May | 1.0" | 3.5" | 5.44 oz | WF5+125 |
| 8-Jul | 1.15" | 3.75" | 6.04 oz | WF7+200 |
---