Cabela's New L-Tech Salt Fly Rod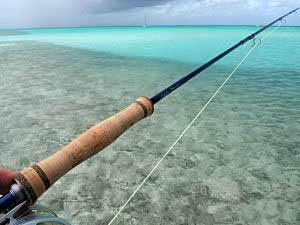 Cabela's recently added a saltwater-specific lineup to its popular L-Tech brand. The L-Tech Saltwater Series feature a faster action, supposedly to help anglers handle windy conditions.
Having just returned from bonefishing around Long Island in the Bahamas, where the wind blew an average of 20 miles per hour throughout the trip, I can vouch for that. I really like the taper of this rod; it reminds me of my Sage RPL Xi, in that it's not tip-focused. You can feel the full flex right into the handle, and I think that's important in terms of noticing where and when the rod loads throughout the cast.
It has top-end guides and its reel seat, while interesting aesthetically, was perfectly functional.
The real kicker, of course, is the price tag: $250, with sleeve, tube, and warranty. And that, in and of itself, makes it worth considering an L-Tech Salt if you are starting to branch out from freshwater fishing but don't want to drop the big bucks for a rod you'll fish only a few times a year. It's an absolutely adequate rod that happens to be both accurate and a lot of fun to cast.
---