A Reel Baby Gift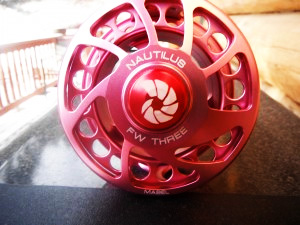 My publishing partner and co-gear-editor of MidCurrent, Tim Romano, and his wife Ellie Childs, recently had a baby daughter. Her name is Mabel. I call her the "little river princess."
So what does a fly fishing writer give to the baby daughter of a partner in this situation? I'm just not one of those silver spoons and/or cups kind of guys. I don't knit baby blankets. I've written down everything that happened on the day she was born, from the wind and weather, to the news headlines, to the moon phase… and maybe someday she'll appreciate that. But I'm also concerned about instant gratification.
So I got her a fishing reel. A Nautilus FW3… in pink, of course. And Kristen Mustad from Nautilus was kind enough to engrave her name on it.
Now there's a method to my madness. I have a little boy myself, and when he was a baby, he'd sometimes pitch fits (as all babies do). I could hand him any store-bought "baby toy" in the world, and that didn't do it. But the minute I gave him a fly reel (something he could twist and spin, chew on, spit on) the world was good.
An un-spooled fly reel (no line) may indeed be the best baby toy ever. They can twist it, both ways. Chomp on it, burp on it, urp on it, and love that thing.
Now the deeper method to my madness is that Uncle Kirk wanted a legitimate "now and then" gift. I honestly think Mabel will be able to turn and enjoy that reel right now.  And I think when she's 21 years old she'll fish that same reel with her dad and me.  Of all the reels in the world that I think could serve the those multiple purposes and stand the test of time, the choice was fairly clear.
I chose the Nautilus for a reason.
---
Next Story→
Sage Offers New Performance Apparel for 2012