Simms SunSleeve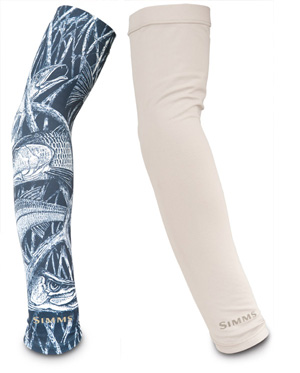 I'm about to depart for a bonefishing trip to Long Island in the Bahamas. And I'll admit that I asked my pal Matt Crawford of Pale Morning Media (the PR company representing Simms) for a little swag. I live in Colorado. My saltwater junkets, while sacred, are few and far between, and my gear closet reflects that.
And Matt stoked me with some goodies. I'll probably be saying nice things (If indeed I actually like them when I fish) about some of those things down the road. But the item that struck me most, out of the box, were these funky "SunSleeve" wrappings. You wear them on your arms like nylon stockings (they're actually two-thirds polyester, and one-third nylon, or thereabouts). They cost about $20.
Now the point, of course, is that they offer 50-plus SPF protection on your exposed arms. Years ago, for those of us who like to fish in T-shirts, that was an afterthought. But if you're paying attention to the blotches and spots on your body (as you should these days) that's an important deal. SunSleeves also come in interesting patterns, with, it dawned on me, immediately give you the detailed tattoo-look (if you're into those things) without having to spend money on ink, doing serious time in a state prison, or joining a heavy metal band. And when the fishing day is over, off they go, and you're back to where you were born (unless, of course, you spent serious time in a state prison, or were a member of a heavy metal band).
I actually find the sleeves somewhat liberating, because now I can match them with my favorite Grateful Dead concert T-shirts. Add a Buff around the neck, and you might end up clad in the perfect sun-safe, good-mojo fishing attire.
Sponsored Link: Buy the Simms SunSleeve
---
Next Story→
Cheeky Fly Fishing: "Road to the Final Fish"