RIO Introduces Three New Fly Lines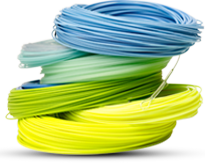 UniSpey
RIO's new UniSpey line is toted as the ultimate all-around, general purpose spey line, and is ideal for medium to larger sized rivers. The new line underwent more than two years of product testing and taper tweaking. The result is an easy casting line, with a long front taper that produces smooth, efficient loops. The line will easily cast larger flies and cope with tricky winds, yet lands with a great presentation that will not disturb glass-smooth pools. The UniSpey is available in 3 different formats.
The first is a full floating, integrated spey line with a black loading point that easily shows anglers the best place to load the rod. The second is a full floating shooting head, with loops in both ends. This is ideal for anglers that fish shooting heads, when confronted with a situation that needs a longer belly line. Finally, a VersiTip shooting head that has a 20-foot long floating tip. Anglers can switch between the floating tip and standard 15-foot sinking tips when conditions dictate a change.
Each of the three formats has the same grain weight, head length, and taper configuration for a given size.
Available in 6/7 to 10/11 sizes for a MSRP of $89.95 for the full floating line, or $49.95 for the shooting head.
Scandi Short VersiTip
RIO's new Scandi Short VersiTip is a shooting head that was developed and designed with the Great Lakes rivers in mind. It is a fantastic tool for anyone that fishes smaller rivers, or in tight casting situations, and is one of the easiest casting spey designs RIO has ever made. Manufactured with a long front taper, this head throws tight loops that easily turn over at distance.
The head comes packaged with 4 different 10-foot long tips: a floating tip, an intermediate tip, a  type 3 and a type 6 density compensated sinking tip. The short tips ensure that anglers can fish narrow runs in tight, yet still have enough body outside the rod to make an easy cast. The head has enough power to turnover 15-foot tips, when a longer head is required, and has no  problem throwing MOW tips of the appropriate size when conditions dictate more depth.
Including the tips, the whole head length of each size is only 33-feet, which works particularly well on switch rods and shorter, modern spey rods. The heads are available in sizes #5, #6, #7, #8  and #9, and feature a welded loop at the rear for easy rigging. MSRP, $119.95.
Hover Lake line
RIO's new Hover lake line has a sink rate almost half that of a standard intermediate, and is ideal for anglers that want to fish a line just below the surface. The line is also a great choice on windy days when anglers need to fish shallow, but don't want the wind to affect the line, and for when fishing in shallow bays, lake shores, and over the top of weed beds. The subtle olive color blends in beautifully and provides a stealthy approach for wary trout.
The ultra slow sink rate may occasionally result in the fly line floating, but with a couple of tugs to break the surface film, the line will sink super slowly and allow anglers to fish just under the surface; an excellent tactic for for nymph and chironomid anglers, as well as for fishing fast streamers without waking the fly.
The line is available from WF4S1 through WR8S1 for a MSRP of $74.95.
Click here to find a RIO dealer near you.
More Videos
Steelhead Taper
Scandi Short Versi-Tip
Tarpon Line
---