New Fishing Tools from Lunker Tools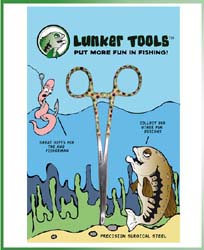 Lunker Tools are a new line of stainless steel fishing tools that feature colorful graphics-wrapped handles. The graphic wraps are baked-on enamel, and come in a variety of designs and colors.
Several different tools are available: Straight (5.5-inches; $9.99) and Curved Hemostats (5.5-inches; $10.49), with wide finger loops for a better grip; Fishing Snips ($6.99) that have an eyelet poker to clear the eyes of hooks and flies; Small Scissors (3.5-inches; $7.49) with large finger loops that and shears for cutting lines or trimming flies; a Scissors/Clamp combo (5.5-inches; $12.49) that serve dual purposes; Utility Scissors (5.5-inches; $9.49) that will cut most fishing-related materials; and a leather Leader Straightener and a Retractable Tool ($8.49). Several items can be purchased in a combination pack that includes the Retractable Tool Reel. All tools come in assorted designs and can be purchased at Lunker Tools.
More about Lunker Tools on MidCurrent.
---