IFTD: "Setting Up"
O Dark Thirty came an hour earlier than normal yesterday morning, bringing with it a shortage of Wolfgang Puck instant coffee packs at the DoubleTree and a promise of blistering temps on the flats southeast of New Orleans.  I'd never fished the spartina-grass basins that line the terminus of the Mississippi River.  I wouldn't have chosen the middle of the hottest month of year to go there or to a tourist town where memories of heat are mixed with almost unreal images of suffering and mayhem.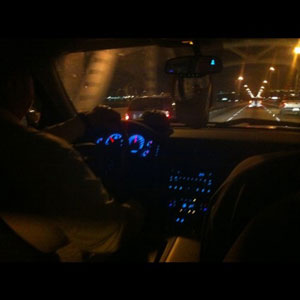 "The oil spill one year later? No one knows what the real impact is going to be on the fish," said Captain Gregg Arnold as we crossed the Greater New Orleans Bridge, which rises over a rising, dark Mississippi. (Remember all that water that was in the mountains last month?  It's here now.)  "But I can tell you what the impact is on me.  My business was down 40%, and my claim to BP got rejected because I didn't do a P&L, and I couldn't do a P&L until I got my taxes done."  We fueled Arnold's skiff at Exxon station and drove on.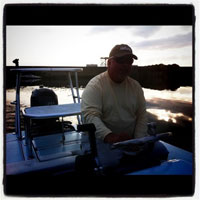 The basins near Venice, Lousiana look like almost any southeast US coastal wetland except that every corner contains a well-head and there are as many signs as you might find in a rural town, giving you a sense that you haven't escaped earlier, simpler version of social messaging: "Do not anchor or dredge. Pipeline." "Pipeline Damage Call 867-555-6544 Collect." "Underwater Pipeline, Stay Clear."  A barge brings cattle out to graze the isolated dry lands.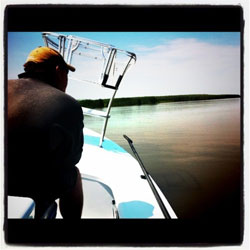 But moments later you a find shallow expanse of dim water lined by low grasses and wrinkled with the signs of moving fish and you are lost.  "There's a fish," Gregg says before he steps up on the platform.  We slid an untested Sage One 8-weight from the gunwhale and cast the nerves out.  Fifteen minutes later we caught a redfish, then another, and another.  "I thought it was too hot for there to be fish here," I said.
"When you've been fishing as long as I have," Gregg said, "you tend to think you can always find fish.  Now look at that fuckin' wake."
---
Next Story→
Video Hatch: "Gaula – River of Silver & Gold"