Schweitzer: Fly Fishing RMNP During and After Runoff
It's no secret that Rocky Mountain National Park experienced a record snowpack in 2011. In some areas, the white stuff was almost too deep to measure, and for some time, unwilling to melt. Many disaster experts who feared a sudden thaw have been relieved to see this year's runoff draw out over an extended period of time, which has meant for high water, but also healthy rivers and fish.
Steve Schweitzer, an expert on fishing the Park and author of the recently released book, A Fly Fishing Guide to Rocky Mountain National Park, views this year's higher than average runoff as a blessing in disguise. "It prolongs ice-out fishing, and makes for better fishing weather in general. Instead of hail, we should see cool breezes and sunny days," said Schweitzer.
Schweitzer also views ice-out as one of the several "magic hours" to fish the Park, and with the more substantial runoff this year, anglers are experiencing what might be called an extended "magic hour-and-a-half."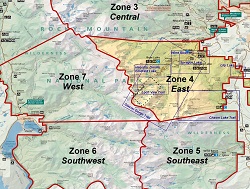 For anglers who aren't willing to wait until the water comes down, the author suggests several lower elevation lakes: Lily Lake, Copeland Lake, and Sprague Lake.
"Lily Lake is ideal, because it's one of the lowest altitude lakes in the Park, as well as a drive-by location," said Schweitzer. Another benefit is that it offers excellent weed growth, promoting insect populations and the trout who feed on them.
For anglers who prefer running water, Schweitzer suggests high gradient streams, such as the North Saint Vrain, where structure and friction points such as boulders and deadfalls are ideal. "Low gradient, meandering streams with spooky fish are much more challenging," Said Schweitzer.
The next magic hour to fish Rocky Mountain National Park, and the prime time for big fish, is post runoff. "Stay in contact with the area fly shops. When they tell you that the water is starting to clear, get on a plane. The fish will be gorging, and fly patterns won't really matter."
Schweitzer's next favorite time to fish the Park is before and after Labor Day, when the weather is pleasant and there are "hoppers galore." The author prefers late-season hopper fishing in lieu of the earlier season when the bugs are way more energetic. "As they get older, and bigger, and slower, they're less capable of getting out of the water, and the trout take advantage. This is an awesome time to introduce kids to fly fishing as bad presentations and slapping your fly onto the water is a good thing."
---
Next Story→
Video Hatch: Fly Fishing on Spain's Bidasoa River