New Web Site: "Take Kids Fly Fishing"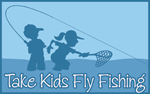 TakeKidsFlyFishing.com, a new web site devoted to enhancing kids' fly fishing experiences, will officially launch on June 1 with a coloring contest that offers prizes ranging from kids' waders to instructional DVDs.
As founders Sarah Lonigro and Kirk Werner (author of the popular Olive the Woolly Bugger series) told us: "Take Kids Fly Fishing was established to provide a central location where parents (and kids) can find listings for all manner of gear available for kids, as well as state by state listings of camps & classes as well as kid-friendly Guides. Our goal is to provide all manner of information to enhance a kid's fly fishing experience, as well as provide a link between manufacturers of kids' products and their direct audience."
Kids can go to the Kids Contest page to download a coloring page and instructions on how to submit their work for the contest. While there they can also see a full listing of the great prizes donated by the contest sponsors, who include Redington, Orvis, Patagonia, and Trout Unlimited and several others.
---