Pipeliner: Fly Fishing's Gritty New E-Zine
Stunning photos, gripping stories, and uncanny insight — all with a keen eye for what is edgy and transgressive in fly fishing. It's what you'd expect from a new e-zine that emerges from the dark tunnel of tradition to stare boldly across the ditches and toward a new horizon for angling.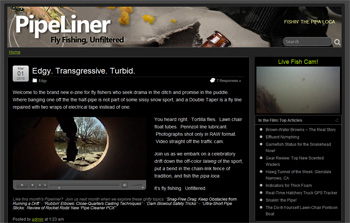 Pipeliner's premier issue delivers tales of danger-close encounters with exotic fish, travel to unforgettable destinations, and journalism that unashamedly scratches the chuffy underbelly of fly fishing. Scented flies, lawn-chair pontoon boats, close-quarters casting, hatchery-truck GPS tracking, traffic-cam video — it's all fair game in fly fishing's most important new publication.
Pipeliner goes where no other fly fishing media has dared go before. Join us as we wade deep into the shadowy talweg and emerge (mostly) unscathed.
Fish the Pipa Loca now!
---