Tibor Wins IGFA Reel Award for Record 6th Time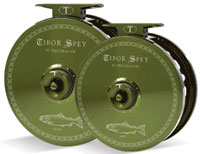 Tibor Reel Corporation reels have now been used in the setting of more than 700 world records – more than any other fly fishing reel manufacturer world-wide.
Tibor is a family-owned business whose made-in-the-USA fly reels are known for their high manufacturing standards and simplicity. As reel designer Ted Juracsik says in this week's press release, "The old masters always told me the most beautiful machines have the least moving parts."
Read the extended entry for the full press release.

Delray Beach, Florida: March 24th 2010 – With 34 new world records set in 2009, Tibor Reel Corporation has once again won the International Game Fish Association (IGFA) World Record Achievment Award for setting the most word records on their tackle in the fly reel division. This is the 6th time that Tibor Reel Corporation has won this award, and now holds more than 700 world records – more than any other fly fishing reel manufacturer world-wide.
A family-owned business, Tibor (pronounced TEE-bor) Reel Corporation has been the world leader in the design and manufacture of the highest quality fly fishing reels for over 35 years. After escaping Soviet controlled Hungary and immigrating to the U.S. in 1958, master machinist, fisherman and founder, Ted "Tibor" Juracsik developed the legendary Billy Pate Fly Reel in 1970 which established new standards of quality, design, and durability for saltwater fly reels. In 1995, the internationally acclaimed line of Tibor Reels was launched, followed by the Tibor Light, the Tibor QC, and the Tibor Spey.
The Juracsik family is proud their products are 100% "Made in the USA" and carry a lifetime warranty. With the exception of the ball bearings, every part of every reel is precision machined and hand assembled in their Delray Beach, Florida facility. Ted's design philosophy is based on simplicity and functionality and goes back to his days as a young apprentice in Hungary. "The old masters always told me the most beautiful machines have the least moving parts," he says. "
Juracsik says, "Making a quality product in an age when American manufacturing is under siege is a great source of pride for us. Although we are extremely proud of our world record achievements, our greatest reward comes from knowing that our reels are built to last and are often passed down from generation to generation."
For more information about Ted Juracsik or Tibor Reel Corporation, visit: www.tiborreel.com.
Contact:
Marianne Juracsik-Papa
Vice President & Marketing Director
Tibor Reel Corporation
[email protected]
561-272-0770
---