New Video: "Devil's Gold"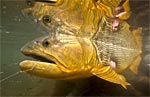 If you're fortunate enough to go on a few long-distance fly fishing trips you realize pretty quickly that being inserted into a jungle or fly-in lodge doesn't guarantee fish. But then every once in a while you'll catch fish like you can't believe. That's what happened to Grant Wiswell when he went to fish for golden dorado in the jungles of Bolivia.
Fortunately Wiswell — who is also producer of the acclaimed film "Equilibrium" — took along a hi-def video camera. He shares the results in his new short film "Devil's Gold," which we showing this week in its entirely.
---