Everybody's Doing It: Inexpensive Underwater Video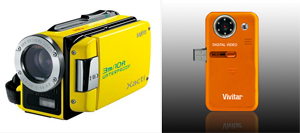 Seems as if every camera manufacturer is wading in with their own versions waterproof video and still cameras.
Take for instance the brand spanking new Sanyo VPC-WH1YL Waterproof HD video camera. It's waterproof down to 10 feet, shoots 720p, 30fps video and has a 3-hour 20-minute continuous recording time. It retails for $399 and for underwater HD, that isn't bad. Or the Vivitar DVR 510 which, with case is waterproof up to 5 meters underwater. It doesn't shoot HD, but does have infrared Night Vision Mode. Perfect for those late night streamer forays for big browns and for $50 is quite a bargain.
---