Fly Tying Video: The Soft Hackle Pheasant Tail Nymph
In this week's new video,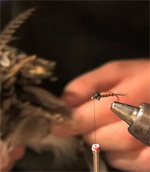 Michael Yelton ties the Soft Hackle Pheasant Tail nymph, an appealing variation on the classic pattern. Yelton has a way of making the complicated seem simple, and this video teaches a bit about both soft hackles and standard methods for constructing one of the most effective subsurface patterns ever devised.

Pheasant Tail Nymph on Wikipedia.
---