Clear Boxes from C&F Design, Patterned Boxes from Wheatley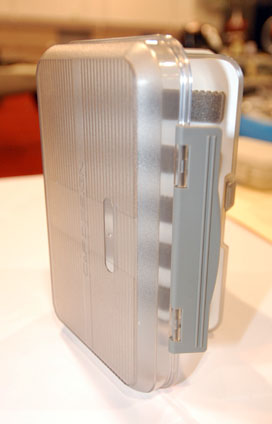 I mentioned yesterday that C&F Design has some tricks up its sleeve to try to keep one step ahead of the copycats (who are getting very good). This year's cool new innovation is a clear lid, made out of the same ruggedized plastic material as the other boxes. Available for the present only in the waterproof large and waterproof medium size classes, the lids at the show cover tarpon fly boxes and a dry fly box. They are not exactly 100% clear; rather, they look like a semi-opaque window such as you might have on a front door. However, they are definitely clear enough to make out what flies you have left, and whether that was in fact your last Toad you just left stuck in the jaws of a tarpon when you farmed that last set. (Hypothetically, of course–no Midcurrent reader would ever be guilty of, er, such bad luck.)
C&F's distributors here in the US also acknowledged that design is underway for a waterproof version of the really big fly boxes which became popular two or three years ago. According to the source, the designers have some technical hurdles ahead of them, so we should not expect to see a C&F Design briefcase box until at least 2010, maybe 2011.
Finally, Richard Wheatley company has added some flair to their classic (and classically beautiful) metal boxes, using a new screen printing technology to fuse beautiful fly and fish photography with the box lids. The guys at Wheatley are known for their attention to detail: the screen printing even runs inside the box. My favorite is a closeup of a brown trout skin, which looks simply exquisite. Look for these to be piled up on the fly shop counter by Christmas.
---