Waist High Waders

If there's a red-headed stepchild in the waders market, it's waist-highs. Many waist-high waders have come and gone without getting much traction. The reason's obvious: when confronted with a $200-300 price tag, the average angler isn't confident enough (or wealthy enough) to know that he can get by without the chest bibs. He buys the taller wader "just in case," even though he knows he'll wade above his waist infrequently-to-never.
Maybe it would help to identify what waist-high waders are for, and why in many ways they are superior to chest bibs. Waist-highs are best for warmer climates; they allow full breathability above the waist (obviously). They're also easier to put on and take off, being, after all, just pants. Most come with a quick-release waist or zip fly, so they're easier to use for restroom breaks. Not to be callow, but waist-highs look better while being worn–more like real pants–and thus have a particular appeal to ladies who dislike the boxy/baggy overalls look of bib waders. They are more comfortable to wear with backpacks, because they generally lack shoulder straps (or they are removable). They blend in with regular clothes enough to let you wear them into a restaurant without getting broad stares. Finally, they pack smaller for travel.

What are the negatives? You can't wade as deep. That's really about it. The thing is, maybe you don't *need* to wade as deep. If you're three feet in the drink, you're probably already facing away from prime trout water (I know, the grass is always greener on the other side of the river). Drift boat anglers rarely need full-body waders, either–they could often get away with tall boots. In fact, most anglers who have committed to wearing waist-highs quickly realize that it makes no difference in their overall fishing; they simply find a shallower spot to cross the river if it is necessary.
Not every wader manufacturer offers a full-strength waist-high wader ("travel" models made of tissue-thin breathable material are somewhat more common). Cloudveil's Hellroaring ($375) and Crystal Creek ($250) models probably look the most like pants among those on the market (Cloudveil has a background in skiwear design). Simms' Headwaters pant–like Cloudveil's Crystal Creek–boasts 3-layer Gore-tex, but the Simms model is less expensive ($250). (Meanwhile, Cloudveil's Hellroaring is the same price ($250), and has five-layer material, but uses a proprietary fabric instead of Gore-tex).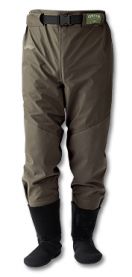 Orvis offers a waist-high model in the Silver Label lineup, which typically use three-layer proprietary fabric ($200), while Dan Bailey's (a perennial sleeper, adored by budget-conscious anglers) has a model for $200 as well.
When choosing waist-high waders, you need to think more about cut than you usually do. Manufacturers who simply cut off the bibs on their full-length waders tend to create baggy, bulky waist-highs, which may sag uncomfortably off the waist. Look for left-and-right leg cuts, fitted booties, articulated knees, and a relatively short crotch. Try them on, and be sure you can bring a knee near your chest without pulling the crotch-junction overly tight (or you risk a rupture crossing fences or stepping onto tall rocks). Just because you wear a size Large in the company's full-size wader, don't assume you'll wear a size Large waist-high; you may need to adjust.
Think waist-highs are a fad that will quickly fade? Love them more than any other fly fishing product? Share your opinions in the Comments section!
---